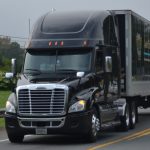 May 12, 2014 3:33 pm
Comment
Summer is almost here and we have all been waiting for it to arrive. Children are out of school, camping trips are planned, and we look forward to lazy days lounging by the pool. For truck drivers, summer time means an increased number of vehicles on the road, so it's important to be aware of driving safety tips. Safety is always first at Smith Transport, and we want you and other drivers around you to be as safe as possible this summer.
Check out these summer driving tips for truck drivers:
1.  Plan your route beforehand and have at least one alternate route as a back-up. While you can sometimes anticipate route changes and plan accordingly for scheduled road construction, you cannot anticipate the unexpected, such as accidents that occur on the highways and could halt traffic for several hours. If you are making trips that have deadlines, always have back-up routes lined up in case you run into a closed down roadway that could add several unpleasant hours to your trip.
2.  Make sure you have all the tools you need to perform minor repairs or change tires.  A breakdown can delay your trip while you wait for roadside assistance to arrive and make necessary repairs. Make sure you keep on-hand all the tools you might need to perform minor repairs so you can go ahead and make routine repairs as needed and get back on the road with as short a delay as possible. Also, don't forget flares and reflective traffic triangles to keep you and other drivers safe if any repairs have to be made on the road.
3.  Never drive when you are tired.  It's extremely important to have plenty of rest before getting behind the wheel. When you're tired, your reaction times are slower and you may not pay as much attention to the vehicles around you. Make sure you are well-rested before beginning each leg of your journey, so that you can reach your destination safely. The new HOS rule is a great aid in ensuring drivers are getting rest between driving shifts, but it's crucial to be always be aware of this tip whether or not you are conforming to the rule.
4.  Avoid distractions behind the wheel.  Smartphones and other electronic gadgets have certainly simplified many things in our daily lives, but they do not add to your safety when behind the wheel of a truck. If you must use your smartphone or another mobile device, safety pull off the side of the road to use your device before heading back out on the road. It's worth it!
5.  Follow basic driving safety guidelines at all times.  Whether you are in a car, truck, or tractor-trailer, there are certain "safe driving" rules of the road that everyone should follow.  These include buckling up your seatbelt, using your turn signals when necessary, allowing plenty of distance between yourself and the vehicles in front of you, knowing where your blind spots are, maintaining safe speeds, and paying attention to road signs that alert drivers to other rules, laws, or regulations for particular stretches of the highway. In particular, note bridge capacity signs and grade indicators during stormy summer weather. Following these rules results in safer roads for all drivers.
When you put these summer driving tips into play, your chance of reaching your destination safety is much greater. Summertime is always filled with more traffic and since Smith Transport puts safety first, we want our readers to do the same. Keep these tips in mind and keep on truckin'!
Apply Today with Smith Transport
If you are called by the allure of steady work and the opportunity to hit the open road with Smith Transport, then applying now is your first step. When applying to drive for Smith Transport, you can choose from a number of open positions where we offer great pay and benefits packages. Smith Transport is a trucking company unlike any other. We treat our employees like family members and take pride in taking good care of everyone. If you're looking for a career that not only pays well, but is also enjoyable, drive for Smith Transport!
APPLY HERE or call 866-265-3718. Don't forget to like us on Facebook!