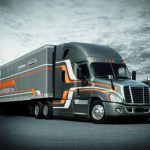 April 29, 2014 9:01 am
Comment
We are growing at Smith Transport!
Smith Transport is happy to announce we are bringing in beautiful, new trucks for our drivers. These new trucks are the Freightliner Cascadia Evolution and offer the ultimate efficiency. We aim to make these trucks driver friendly because we care about the workplace we give our drivers. Smith Transport is committed to maximize our drivers' experience–that's one of the reasons we're bringing in these stunning Freightliner Cascadias. We are in the process of receiving 60 new trucks currently and hope to take delivery of 40 more later in the year. We would like these trucks to grow our fleet as we have plenty of miles and work to provide a great living for all drivers here at Smith Transport (apply at Smith Transport here.) So what are these new trucks all about and what makes them special?
All of the Freightliner Cascadias will be outfitted with a Go Green Auxiliary Power Unit that will provide 110v power as well as heat and A/C in the bunk so that the truck can be comfortable during breaks in all climates, regardless of idling regulations. As always, our specs on these trucks call for our trademark black paint and lots of chrome extras. We want our drivers to be proud of what they do and where they work, whether it's at home with friends and family, fueling at truck stops on the road, or arriving in style at our customer locations.
Let's take a look at what else these trucks bring to the table…
New 2014 Cascadia Evolution
Engineered for optimal efficiency, the Freightliner Cascadia has included groundbreaking technologies from the very beginning. Now, representing the latest milestone in its continued pursuit of increased fuel economy, Freightliner Trucks has launched the next generation of Cascadia with the 2014 Cascadia Evolution, and Smith Transport is hopping on this bandwagon!
These new trucks are equipped with the latest version of the Detroit DD15 engine and some of the most aerodynamic enhancements in the industry. Significant fuel savings show an additional 7 percent improvement in fuel economy over a 2010-compliant Cascadia equipped with a first generation aerodynamic package. It also shows up to a 5 percent improvement compared to a current model year 2013 Cascadia equipped with the latest aerodynamic upgrades.
Evolution of Efficiency Tour Shows Significant Fuel Economy Improvements
Fuel economy data for the new Cascadia Evolution was compared to that of the current model EPA 10 Cascadia during a one-week Evolution of Efficiency Tour. Traveling across the United States under real-life conditions, the two heavy-duty tractor-trailers traveled 2,400 miles at an average speed of 62 mph in an analysis of the improvements in fuel efficiency achieved with the Cascadia Evolution. Monitoring the trucks every step of the way, an engineering crew traveled as part of the tour in a state-of-the-art mobile command center and made sure every move was measured to ensure accurate test conditions. Extreme variations in weather and terrain were encountered giving engineers a realistic impression of the vehicle's performance. At the end of the tour, fuel economy showed a significant 7 percent improvement over the EPA 10 model. Pretty amazing, huh?
Pushing the Envelope − the New Detroit DD15
There's even more evidence on how fuel efficient these trucks are! Only available in the Cascadia Evolution, the newly designed Detroit DD15 engine has been engineered for enhanced performance in fuel efficiency; the DD15 features an asymmetric turbocharger with a next-generation amplified common rail system allowing for the optimal amount of fuel to be delivered at just the right moment. The turbocharger is matched to the DD15's EGR system for real world fuel consumption, resulting in excellent performance.
The enhanced DD15 also includes an improved fuel filter module with two filters that deliver lower maintenance costs with a 100,000 mile filter change interval. The engine also features a variable speed water pump that allows for lower impeller speeds, improved electronics for better engine and aftertreatment system management, and an optimized design for less friction and oil consumption.
Also standard on the Cascadia Evolution, the Detroit Virtual Technician system helps reduce downtime and decrease maintenance costs by providing real-time engine diagnostics. The system enables drivers and fleet managers to quickly and accurately evaluate events.
Committed to Top-of-the-Line Equipment
We are committed the most innovative and fuel efficient trucks on the road today, and that's why we're adding these new and improved Freightliners for our truck drivers. Sixty new trucks are on their way and there are more to come. We encourage you to apply at Smith Transport as we have plenty of miles for you. Hit the open road with Smith Transport with great pay and benefits packages. Smith Transport is a trucking company unlike any other. We treat our employees like family members and take pride in taking good care of all of our employees. If you're looking for a career that not only pays well, but is also enjoyable, drive for Smith Transport!
APPLY HERE or call 866-265-3718. Don't forget to like us on Facebook!