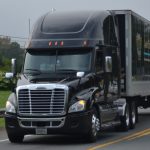 February 10, 2014 9:22 pm
Comment
If you're looking for a rewarding career in the trucking industry, you should drive for Smith Transport. This company is dedicated to taking care of its drivers, and provides a lucrative salary and benefits package, not to mention the fact that you'll be driving some of the best equipment on the road today.
About the Company
Smith Transport is based in Pennsylvania, but provides service to customers from across the country. The company was founded by Barry F. Smith, who first had a vision to manage a trucking company at the age of eight, when he began making repairs to his father's fleet of trucks. Over the years, Mr. Smith's startup has grown exponentially from its humble beginnings to an operation that today consists of more than 1,000 vehicles, and warehouse space that spans nearly 3,000,000 square feet. Although there are more people than ever who drive for Smith Transport, the founder's commitment to customer excellence and driver satisfaction continues to set it apart from other trucking firms.
Open Positions
When applying to drive for Smith Transport, you can choose from a number of open positions. This agency is currently looking for solo and team company drivers in its van division. Six months worth of experience is required in order to apply for this position. Several dedicated positions are also available for those who live near Bedford, PA; Chicago, IL; Appleton, WI; or Delmary, NY. Dedicated positions will afford you the opportunity to be home on weekends, as well as one or two nights through the week. There is also a need for tank drivers, and you must have a tanker endorsement and live in either Pennsylvania or West Virginia in order to drive for Smith Transport in this capacity.
Pay
The amount of pay you can earn when you drive for Smith Transport will largely depend on the position you hold. Company drivers earn base pay of .41 cents per mile whether operating loaded or empty. There are also mileage bonuses available, with rates being an additional:
$.01 per mile for 10,000 to 10,499 miles
$.02 per mile for 10,500 to 10,999 miles
$.03 per mile for 11,000 to 11,999
$.04 per mile for more than 12,000 miles
As a company driver, you can also earn stop-off pay that is between $20 and $40, layover pay of $96 after 24 hours, and detention pay of $12.00 per hour. Special short haul pay incentives are also given for shorter trips.
Pay rates vary for tanker operators and dedicated drivers, and the amount of pay will be discussed with you at the time an offer to drive for Smith Transport is made.
Benefits
The company offers a lucrative benefits package that includes medical, prescription drug, dental, vision, life and short-term disability insurance; 401(k) plan, and paid vacations. When you drive for Smith Transport, your premiums will be very affordable, with the company covering the entire cost of life and short-term disability coverage.
Top-of-the-line Equipment
One of the things that sets this trucking company apart is its equipment. When you drive for Smith Transport, you will be given top-of-the-line equipment to operate while on the road. The company offers Peterbuilt, Freightliner, and International Lonestars with a full range of amenities to ensure your safety and comfort.
Smith Transport is a trucking company unlike any other. This company treats its employees like family members, and takes pride in taking good care of all of them. If you're looking for a career that not only pays well, but is also enjoyable, you should drive for Smith Transport.