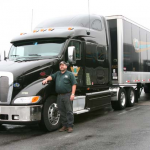 January 20, 2014 5:56 pm
Comment
Becoming a Smith Transport Driver is a lot like joining an elite group of professional drivers. It's obvious in the truck a Smith driver drives, in the work culture he is part of, in what he experiences on the road, and in the pay and benefits he takes home. 
Here's a more in-depth look.
Driving a First-Rate Truck
In the last quarter of 2013, Smith purchased 50 latest model of International Lonestar trucks to its fleet. It was truly an early holiday gift to drivers. They were kept warm, comfortable and secure especially during the winter. Lonestar trucks came equipped with improved operational features usually not available in other models and brands. These features alone help make the driving experience enjoyable, convenient and stress-free.
Living the Normal Way of Life
Normal is good. Normal means free from unnecessary stress. Most drivers in the industry suffer from overwork or burnout. Smith drivers don't.
While it's true that Smith is classified as a "Mega Carrier," the company's headquarters is in its quaint hometown of Roaring Spring, PA. That's why Smith is able to maintain its prestige in the market without the burden and headaches often assumed by a large corporation. Smith Transport drivers are able to live a normal way of life in a community where neighbors are friendly and family values are kept.
Do visit us in our headquarters and see for yourself. You'll find out soon how a positive team environment makes a huge difference.
Getting What You're Truly Worth
Smith Drivers take home one of the best rates in the industry. But that's not all. They also enjoy a set of benefits such as:
– Medical/Prescription
– Dental
– Vision
– 401(k)
What's more, life insurance and short-term disability are all paid for by the company. Besides Smith drivers, legal spouses and children and stepchildren under 19 years old can even get coverage.
Smith Transport drivers get all these benefits in the first of the month after their 60th day of employment. They can enroll in the 401(k) in the first of the month after their six months of employment.
Here's a detailed summary of the benefits Smith drivers get. Take a good look. You'll see why the drivers at Smith Transport love the work they do.
Seeing Scenic Drives Across the Country
There's more to driving than just sitting behind the wheels. Smith Drivers take pride in the routes they take across the country. We complied a list of some of the most scenic drives in the U.S. such as:
– Glacier National Park, Montana
– Going-to-the-Sun Road
– Blue Ridge Parkway, Virginia
– U.S. 1, Florida
– Columbia River Highway, Oregon
– Highway 101, Oregon
– Red Rock Country, Arizona
– 17-Mile Drive, California
– Route 12, Utah
– Trail Ridge Road, Colorado
– Seward Highway, Alaska
Click here to see photos of these beautiful places. Of course, Smith Drivers won't necessarily drive in all these places. But you get the idea. The trucker's view definitely beats the view from an office.
These are just some of the many reasons why Smith drivers occupy the elite category of drivers in the trucking industry. They're not just a number. They're professionals who take pride in what they do and take part in the community.
Want to drive for Smith Transport? We would love for you to apply here. Don't forget to check out us on Facebook, too.