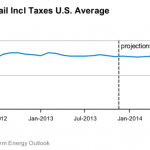 January 6, 2014 12:00 am
Comment
Fuel:  we need it to run our errands, go on vacation and for truck drivers, make our job possible. For drivers, fuel is literally the driving force to complete our job and transport goods where they need to be. Not only are drivers crucial to move America forward, but also fuel prices are typically something drivers are interested in.
We're at the end of 2013 and in these final days of the year, prices at the pump have been considered tolerable. Since diesel prices are an important element in the trucking industry, Smith Transport has put together facts from the U.S. Energy Information Administration so you can get an idea of projected diesel prices in 2014.
The U.S. Energy Department's Energy Information Administration says diesel fuel prices, which averaged $3.97 per gallon in 2012, shows the average retail price of on-highway diesel fuel for 2013 was $3.85 per gallon. And it plans to ease further next year. The projection for the average retail price in 2014 is $3.77 per gallon.
Much of the reason the department says gasoline prices will move lower is it continues to expect declining gasoline consumption in 2014, as improving fuel economy of new vehicles continues to outpace growth in highway travel, while world demand for diesel is expected to grow according to other reports, with the U.S. increasingly refining more oil for diesel exports.
The forecast for Brent crude oil spot price, which averaged $108 per barrel during the first half of 2013, is forecast to average $102 per barrel in 2014. Projected West Texas Intermediate (WTI) crude oil prices average $95 per barrel during 2014.
EIA expects U.S. crude oil production will average 8.5 million barrels per day in 2014. Energy price forecasts are highly uncertain and could differ significantly from the projected levels, says the department.
While predictions are never certain, we all like to hear that fuel prices could be even lower in 2014. Check out the EIA website for updated fuel metrics.
If you are interested in driving for Smith Transport, visit our website here. Follow us on Facebook to join the conversation and get the latest Smith Transport news.
Happy New Year from Smith Transport!