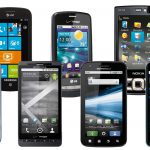 December 19, 2013 7:45 pm
Comment
If you're a truck driver, you have obstacles to face on the road:  road conditions, traffic alerts, directions, finding the best fuel prices, where to stop along the way like weigh centers, travel centers, rest areas and more. Wouldn't it make your journey easier to have all of this knowledge at your fingertips? Google and Apple have a lot to smile about… over half of Americans own a Smartphone (a whopping 52%!) With that being said, we decided to put together the Top Trucker Apps for all drivers out there.
Increased regulation, demanding customers and driver shortages are a few reasons why the trucking industry is embracing mobile technology. The use of handheld devices is exploding in the trucking industry and mobile apps that help improve safety and compliance, reduce costs and increase customer satisfaction are on the rise.
In a recent survey by uShip, more than 6,000 owner-operators reported how they use their cell phones and mobile apps on the road:
* 57% use their phones more for daily business this year than they did last year.
* 37% use their phones to book loads, and 35% use them to bid on loads.
* 33% use mobile apps to monitor the weather, gas prices and traffic conditions.
* 20% no longer travel with a laptop.
* Nearly 20% use social networks such as Facebook and Twitter on their phones to keep up with family, friends and colleagues.
Clearly, mobile phones and tablets have become a crucial part of life on the road for truckers. Check out these trucker apps Smith Transport complied specifically with you in mind:
Trucker App & GPS for Truckers
Trucker App & GPS for Truckers gives turn-by-turn directions that allow you to add multiple locations and avoid locations. The Trucker GPS gives you all the benefits of directions with the capability to add any stops you want, up to a total of 7 stops. With options to have direct navigation or a route planner no matter where you are going, the Trucker App & GPS for Truckers will get you there.
It also features MPG price calculator, rerouting to avoid areas where you want to skip, direct navigation, auto-finish option when typing ending destination, turn-by-turn voice guided navigation, listed directions and interactive map, satellite views, route planners, weigh station locations, travel centers and more.
Trucker Tools
Save money while on the road with the free Trucker Tools app. The Trucker Tools app helps you find latest & lowest diesel prices, nearest truck stops, live traffic, turn-by-turn directions and current promotions on food, products and services at truck stops across the country. It also locates truck stops near a city, your current location, along an interstate, or at a specific exit — and provides directions. The database of truck stops powering this app is the most complete in the country and is updated daily. Fuel prices are even updated hourly.
My DAT Trucker Services
MyDAT Trucker Services is a free app for truck drivers showing nearby truck stops, travel plazas, diesel prices, truck-friendly hotels and services, Walmarts, rest stops and CAT Scales – as well as loads from the DAT Extended Network – also seen on monitors in over 800 truck stops nationwide. The DAT Extended Network displays a subset of the millions of loads found annually on DAT Load Boards including TruckersEdge.
FatSecret Calorie Counter
Eating right is a challenge behind the wheel: Time and access to restaurants may be limited. With this app, drivers can look up nutrition information for foods found at most food places, scan barcodes for instant nutrition information on packaged foods and track total daily calories, fat and carbs. If you're health-conscious, this is a must.
Skype
With free calls to any user worldwide, Skype is an easy way for drivers to stay connected. They can even videoconference with dispatchers, fellow drivers and family and make calls to landlines and cell phones for less than most pre-paid calling cards. With this app, drivers can see their family face-to-face so they can stay in touch on an interactive level. They can also receive voicemail messages send files and text messages.
uShip Mobile
Especially popular with owner-operators, this app makes it easy to bid on loads that people and businesses need shipped. Drivers can find nearby loads, place bids, get automatic notices that let them know when a bid is accepted or declined, view booking details and use optional GPS tracking to alert shippers and consignees to ETAs.
Many apps help improve drivers' quality of life by giving them anytime, anywhere access to information, professional tools and streaming video and audio. These apps-particularly connect drivers with their family and friends. We hope these apps are helpful in your each and every drive!