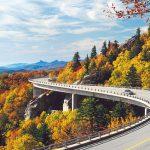 December 9, 2013 10:36 am
Comment
The beauty about being a truck driver and being on the road is experiencing the gorgeous scenic drives. Truck drivers can see a lot of the country while they work. They don't have to sit behind a desk looking at a computer screen… they can see beautiful trees and their bright colors, mountains, snow, fields of corn and wheat, flowers, lakes, rivers, sun rises and sunsets and so much more.
The scenery constantly changes and there are usually points of interest to see along the way. Is your office view as good as a trucker's view? Becoming a driver for Smith Transport can be a great way to start seeing and doing.
We've put together a list 10 beautiful scenic drives in America (please note these are not necessarily places where Smith Transport drivers may drive.) Take a look at Smith Transport's top 10 list of the most picturesque scenic drives across the country:
1.  Glacier National Park, Montana
Glacier National Park is the center of one of the largest and most intact ecosystems in North America. The views from the Going-to-the-Sun Road over the Continental Divide make a visit worthwhile. Glacier's one million acres of turquoise alpine lakes, mountain goats and grizzly bears, and of course, glaciers leave visitors in amazement.
Going-to-the-Sun Road
The 52 miles of this two-lane road that stretch over sheer cliffs and around solid rock is a must-see. The Going-to-the-Sun Road crosses the Continental Divide at nearly 7,000 feet through Logan Pass, providing scenic views of Glacier National Park's rugged landscape and wildlife right from the road.
2.        Blue Ridge Parkway, Virginia
Outstanding scenery and recreational opportunities make the Blue Ridge Parkway one of the most visited sections of the National Park System.
Split-rail fences, old farmsteads, mountain meadows and scenic overlooks with endless vistas make the Blue Ridge Parkway a popular attraction. The Parkway provides stunning views and natural beauty featuring one of the world's most diverse displays of flora and fauna.
3.        U.S. 1, Florida
On U.S. 1 from Key Largo to Key West, you will experience tropical beauty. The island chain's stretch of road encompasses everything from underwater coral reefs and 7 Mile Bridge, one of the longest in the world.
And what do drivers see? Miles of colorful seascapes, colors of shimmering sea from turquoise to blue to deep green and swaying palms all under a blue sky dotted with white clouds.
4.        Columbia River Highway, Oregon
Drivers of all types can leisurely enjoy the view from the Historic Columbia River Highway.
It's a marvel—for its visionary engineering, incredible scenery, and rich history. Internationally recognized for spectacular waterfalls, architectural gems, and magnificent overlooks of the Columbia River Gorge, it's no wonder this Byway has been called "King of Roads."
It's been recognized and listed on the National Register of Historic Places as a National Historic Landmark, designated as a National Historic Civil Engineering Landmark by the American Society of Civil Engineers, and considered a "destination unto itself "as an All-American Road.
5.        Red Rock Country, Arizona
The Red Rock Scenic Byway Road is a gateway to the world-famous Red Rock Country of Sedona, Arizona. It's just 110 miles north of Phoenix, about 40 miles south of Flagstaff, and only a few hours south of the Grand Canyon.
This highly acclaimed National Scenic Byway has earned the distinction of being Arizona's First All-American Road. It winds through the evergreen Coconino National Forest, with several scenic pullouts, as well as through the extraordinary, prehistoric Red Rocks with nearby parking and all levels of hiking and biking trails. This scenic byway has breathtaking sights!
6.        17-Mile Drive, California
The 17-Mile Drive is a scenic road through Pebble Beach and Pacific Grove on the Monterey Peninsula in California, much of which hugs the Pacific coastline and passes famous golf courses, mansions and scenic attractions, including the Lone Cypress, Bird Rock and the 5,300-acre Del Monte Forest of Monterey Cypress trees. With surf-beaten cliffs and colonies of seals, it also boasts spectacular sunsets over the Pacific.
7.        Route 12, Utah
The red rock majesty of Utah is on glorious display on State Route 12 winding between Capitol Reef and Bryce Canyon National Parks. On the 124-mile strip, visitors can witness the steep sandstone canyons and bluffs of purple sage.
All-American Road says "Nestled between Capitol Reef and Bryce Canyon National Parks, Scenic Byway 12 is located in one of the most beautiful places on earth."
8.        Trail Ridge Road, Colorado
Trail Ridge Road is the highest continually paved road in the U.S. The Trail Ridge Road winds as high as 12,185 feet through Rocky Mountain National Park in Colorado. Following a route traced over the Continental Divide by Native Americans for thousands of years, visitors can see elk, deer, and bighorn sheep above the tundra.
9.        Highway 101, Oregon
The coast of Oregon and has preserved natural vistas along 300 or so miles of beaches off Highway 101. The Oregon Coast is more than a place… it's a state of mind. No place on the map of Oregon is marked as "the Oregon Coast," but everybody knows that the 363 miles of coastline where the Pacific Ocean washes up on the state's western beaches is unbelievable.
Highway 101 winds down the entire Oregon Coast from the Columbia River to the California border. Along the way, it passes through the old growth forests of Oswald West State Park.
10.      Seward Highway, Alaska
The Seward Highway connects Anchorage with Seward, crossing onto the Kenai Peninsula about 50 miles south of Anchorage.
The drive from Anchorage to the seaside community of Seward begins with two hours of spectacular views as you pass between the dramatic shorelines of "Turnagain Arm" and the peaks of the Chugach Mountains. The route continues through the Kenai Peninsula, famous for its array of outdoor activities like fishing, glacier and wildlife cruises and sea kayaking.