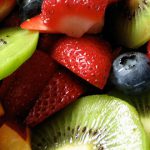 November 18, 2013 9:30 am
Comment
It's easy to eat healthy at home:  you shop at your local grocery stores, check the Nutrition Facts, and have the time to prepare your own meals knowing exactly what you're adding (or not adding) to it. But when it comes to eating healthy on the go, it's about preparation and making the right food choices.
But if you're living the truck driver lifestyle and you're on the road during mealtime, it's not easy to stay healthy, especially during the holiday months.
When you're on the clock, it's quick to pick food based on convenience rather than on nutrients and after a while, it can and will catch up to you. If you're traveling on the road, it's important to prepare yourself for a healthy success.
First and foremost, you must create a healthy surrounding. If you have junk food around, that creates temptation and you may buckle. Before the holidays, try to go in with a mindset to clear out the bad foods and bring in the good (on the road and at home!) Stay focused on a healthy eating plan and a healthy environment will come along with it.
Here are five tips to stay healthy on the road during the holidays:
1.    Bring fresh food with you. If you're going on a shorter trip, prepare your food beforehand. Bring dishes such as salads, grilled chicken, sweet potatoes and vegetables. Another great option for food on the go is nuts: almonds, walnuts and pecans. These foods are packed with healthy fats and are very satisfying. Just remember to stick to only a handful!
2. Don't skip meals. When you're traveling on the road, it's easy to skip a meal. This leaves your body starved for food and can easily cause you to binge at a later time. If you eat every two to three hours, you are less likely to make poor food choices. Not only that, but eating every two to three hours keeps your metabolism high.
3. Do the best you can. If you must stop for fast food, remember you can weigh your selections. Many fast food places provide low calorie meals and offer nutritional facts on their products. Also, use your best judgment when choosing what to eat. While fast food may be over processed, you can most likely find healthier options. If they're stocked with burgers, ask for your burger to be wrapped in lettuce and hold the mayo. If you're getting a salad, ask that they hold the croutons and dressing. If you can choose white over wheat, go with wheat. There are ways to cut calories… you just have to get creative!
4. Stick to the 80/20 Rule. You don't have to be 100% healthy, just 80% of the time. The 80/20 suggests choosing healthy food choices 80% of the time, and the other 20% to satisfy your sweet tooth. Don't tell yourself you can never have your favorite food again because that is only setting yourself up for failure. Enjoy a sinful treat every now and then — just make sure it's 20% or less of your diet.
5. Remember the Three-Bite Rule. This is a great tip for the holidays. After three bites of dessert, any sweet — no matter how delectable — starts to lose its luster. So try to stick to the three-bite rule (you won't regret NOT finishing it!) This gives you a little wiggle room to still enjoy an appetizing dessert without going overboard.
Smith Transport wishes everyone a happy holiday season!