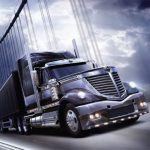 November 4, 2013 9:24 am
Comment
Like an early holiday present, Smith Transport has added the latest model of International Lonestar trucks to the fleet. Our newest trucks are sure to keep you comfortable, warm, and safe during the winter months. Enhanced operational features include easy to grip handles, nonslip, large steps, and wide-opening doors. These often-overlooked features combine functionality with convenience to make each haul enjoyable and stress-free.
Comfort is only secondary to safety at Smith Transport, which is specifically why we chose the International Lonestar trucks. Wide windshields allow for increased visibility during snowstorms and standard dual steering gears for on/off highway conditions will decrease the effort required to steer any load on all types of terrain. In the Low Cab Noise Lonestar, these features combine with improved insulation, ensuring a terrific sound and temperature-controlled environment.
Whether you are hitting the pavement for weeks or sleeping in your own bed at the end of the day, you will be warm and safe during the winter months in your International Lonestar at Smith Transport. Each truck has endured millions of miles of safety tests, so you won't come across a terrain that your truck can't handle. We want you to arrive at your final destination safely and efficiently. With the new International Lonestars, you will be able to rely on your truck 100%.
As last leaves fall off the trees, it is time to start thinking about winter weather preparation. Don't forget these five safety tips while driving your International Lonestar this winter!
1. Prepare for the haul
•    To brace yourself for the cold, plan your route and monitor the weather. Stock your truck with all necessary supplies (ex: warm clothing, blankets, canned food and water, a full diesel tank, and chains for tires.)
2. Calm and steady wins the race
•    Match your speed to the weather conditions, even if you are a seasoned driver. Your truck can move unpredictably on ice and snow due to decreased traction.
3. Space cushion
•    When weather conditions get bad, drivers often tend to follow one another, causing accidents. To prevent a domino effect, maintain adequate space.
4. Lightly brake and accelerate
•    Force is not your friend in slippery situations. If you need to slow down quickly, lightly pump your brakes to reduce the chance of locking your tires.
5. Correcting skids on a slippery surface
•    If you do find yourself skidding, turn the wheel in the direction that the rear is sliding towards. Remember not to brake and release the gas, allowing your travel speed to match the speed of the tires. This maneuver will allow you to regain traction and regain control of your truck.
No matter what season, Smith Transport cares about your safety and comfort. With the addition of the International Lonestars to the fleet, we continue to provide a warm and enjoyable workplace. From Smith Transport, we wish you a wonderful and safe winter holiday season. Don't forget to follow us on Facebook!