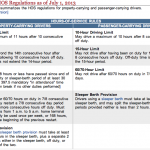 October 14, 2013 9:00 am
Comment
Are you a commercial driver or interested in becoming a part of this exciting career? If so, did you know the hours of service recently changed for all commercial motor vehicle drivers in the U.S.? This change will affect all truck drivers and Smith Transport is here to give you the rundown on the new hours of service regulations.
Ann Ferro, Administrator of the Federal Motor Carrier Safety Administrator says, "FMSCA developed the rule based on the latest sleep science and sought input from all sectors including small business owners, drivers, shippers, safety advocates and trucking companies."
With Compliance, Safety, Accountability (CSA), the Federal Motor Carrier Safety Administration (FMCSA), together with State Partners and industry, is working to prevent commercial motor vehicle crashes, fatalities and injuries on our nation's highways.
Hours of service regulations apply to all commercial motor vehicle (CMV) drivers in the U.S. and are for the purpose of limiting the number of hours commercial drivers may be on-duty and the amount of time they may spend driving, both on a daily and weekly basis. As a driver, you are also regulated as to how many breaks you must take and how much time you must rest between your driving shifts.
Here are six hours of service regulations any commercial driver should know:
You may drive for up to eight hours but are limited to no more than 14 hours in any single on-duty shift. "On-duty" is defined as all time spent in or on your rig, including while waiting to be dispatched or loaded/unloaded. When you're on or around your truck you're considered "on-duty" unless physically in your sleeper berth.
You must take a 30-minute break before completing the first eight hours of any shift. The 14-hour maximum on-duty time may not be extended with breaks, meals, fueling up, etc. After completing a 14-hour shift, you're required to take a minimum of 10-hours off-duty time.
You're limited to a total of 60-hours on-duty time within any consecutive seven-day period, or 70-hours in eight-days if your carrier operates every day of the week. You can start a new 60/70-hour period by going off-duty for a minimum of 34 consecutive hours.
If you drive one-day work shifts, leaving and returning to the same location, you may work a 16-hour on-duty shift, but are limited to a total of 11-hours driving time.
Taking 34-hours consecutive off-duty time will restart the 60/70-hour time limitation, but must include two periods of 1 a.m. to 5 p.m. You can only restart once per 168-hour week.
If adverse weather prevents you from safely stopping to rest, you may legally extend the 11-hour driving limit by two hours but may not drive past the 14-hour on-duty time limitation.
These changes have affected Smith Transport in a positive manner. Jay Leifheit, Director of Safety and Compliance at Smith Transport says, "We do a good job with safety because we focus on what's important. That means making sure the driver has adequate rest, the equipment is well maintained and the driver has resources he or she may need to be successful in their job. At the end of the day, the goal is for every driver to come home safe."
These new hours of service guidelines are in full swing, so we encourage you to study this overview if you have any questions. If you violate the new regulations, you may be out-of service- (shut down) at roadside until you have accumulated enough off-duty time to be back in compliance.  State and local enforcement officials may assess fines. FMCSA may levy civil penalties on driver or carrier, ranging from $1,000.00 to $11,000.00 per violation depending on severity.  Also, a carrier's safety rating can be downgraded for a pattern of violations; federal criminal penalties can be brought against carriers who knowingly and willfully allow or require HOS violations, or drivers who knowingly and willfully violate HOS regulations.
Regulations are issued by the Federal Motor Carrier Safety Administration, a division of DOT. The latest amended version became effective on 2/27/2013 (for off-duty allowances) and 7/1/2013 (for break rules and restart-limits).
Leifheit says that safety starts at the top and he is proud of their safety efforts and safety records at Smith Transport. We hope these new hours of service regulations result in a safer work environment for commercial drivers all over the country.
For a complete summary of hours of service regulations from the U.S. Department of Transportation, click here. For more information from Smith Transport, visit Smith Transport's website and like us on Facebook!