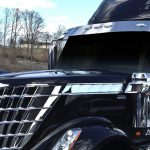 October 1, 2013 9:00 am
Comment
It's especially great to see how this company keeps its equipment up-to-date. Smith believes in making sure drivers always have the best equipment available. For example, last year they did a full test of a cab they've never used before, the Lonestar International, and they were so impressed with it that they purchased 50 of them!
These units pack MaxxForce Big Bore engines – known for stretching the miles between fuel stops and for delivering power that'll take you up the steepest mountain roads without complaining.
Another great thing about the Lonestar is the super-insulated cab. You won't believe how quiet the ride is. On a day when the temperature outside is a miserable 98°, the cab's high-tech temperature control works perfectly, keeping the interior cool even with the scorching sun and the blacktop practically melting under the tires. It's something a driver can look forward to.
Smith is all about keeping its equipment updated, too. Besides the new Lonestars, this year they also bought 50 brand-new Peterbilt 389s to replace older cabs. These new 389s carry the Paccar MX-13 engine – a power unit that makes your fuel last longer and breaks down a lot less often. When you get to drive one of these you'll have less down time and won't have to take it in for maintenance as often.
Another great 389 feature is a new SmartNav system that actually lets you monitor your truck in real time. They've got a nice big 7-inch touch screen to interact with, and they build the navigation system specifically to your truck. This SmartNav system features easy Bluetooth® connectivity, voice recognition, and an in-cab audio systems that get satellite radio and lets you plug in your MP3, USB or iPod®.
On top of it all, these new Peterbilts now have air disc brakes and electronic stability control as standard equipment. What's not to love about equipment that automatically helps you drive safer – on highway and off?
Smith really does believe in keeping their drivers in the best rigs on the road, and by purchasing these new trucks, they've gone a long way to prove it.