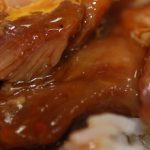 April 21, 2015 9:20 am
Comment
After a long day of work, everyone enjoys a tasty, hearty, and healthy meal. Truck drivers are no different. But all too often the easiest and most accessible food isn't the most flavorful or good for you. Luckily, there are plenty of portable devices that drivers can use to prepare their own meals on the go. Smith Transport is here to tell you more!
One of the best ways to do this is to use a slow cooker. If you go online, you'll find plenty of inexpensive options available! Of course, you should make sure the appliance is allowed in your truck and follows all advisories. Once you're good to go, it's time to think about what to whip up in that brand new slow cooker.
The guys over at The Healthy Trucker have put together more than a dozen excellent recipes, and you should check them out! But in the meantime, here are three of our favorite slow cooker choices:
1. Savory Fiesta Chicken
"The more simple, the better" comes into play for this recipe; it only requires three ingredients. It doesn't get much easier than that! Just take a couple of pounds of chicken breast, a can of cheddar soup, and a jar of your favorite salsa. You can find the full recipe here, but suffice to say that this tasty option is ideal for those who don't quite have the master chef skills that their taste buds may hold.
2. Sweet Potato & Kale Stew
This one requires just a few more ingredients, but it's a healthier take on an old school beef stew. The sweetness of the potatoes really balances out the savory kale, which does a great job of soaking up the onion and chipotle flavors. This is definitely a recipe for an overnight stop, and perfect for colder temperatures.
3. Chicken Teriyaki
Try out this recipe once you're feeling confident in your slow cooker skills. It only takes about four hours, but requires more ingredients. Instead of spending money on fast food or Chinese cuisine, make your own in your truck! With it's brown sugar and ginger simmering on low, we can assure you that you'll love the smell of this one just as much as the flavor!
We hope these slow cooker recipes for truck drivers have given you a few ideas on the many healthy and tasty meals you can create. Over the road doesn't mean you have to get by on cheeseburgers and gas station snacks. Check out a travel-safe slow cooker and kick it up a notch!
If you're interested in joining a company that supports and looks out for its drivers at all stages of their career, consider getting behind the wheel at Smith Transport. Driving for Smith means having job security, respect, and choices.
Contact us today at 866-265-3718 or smith-recruiting@smithtransport.com. Ready to apply? Click here!
Don't forget to follow Smith Transport on Facebook and Twitter!