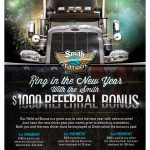 January 1, 2015 8:40 am
Comment
There's a new reason to be excited about the New Year. What are we referring to exactly? It's our $1,000 Referral Bonus! Smith Transport is always looking for new drivers, and we want to reward our current drivers for referring new truck drivers to Smith.
If your 2015 New Year's Resolution is to earn more money, or you don't have a New Year's Resolution but could always use more income, we can help with that!
A great way to ring in the New Year is to earn extra money, and easily earn that money through our driver referral program. Not only is this an awesome bonus, but also it's super simple to get. All you have to do is have the new driver give YOUR name to us when they call 866.265.3706 (prior to attending orientation.) Both you and the new driver must be employed at Smith when the bonus is paid.
Now let's look at the breakdown on how you'll receive your bonus:
1st Payment – $150 is paid to you when the referred driver delivers their first load.
2nd Payment – $350 is paid to you when the referred driver has been employed for 30 days.
3rd Payment – $500 is paid to you when the referred driver has been employed for 100 days.
And there's your $1,000 bonus from Smith Transport! How great is that?
All current Smith drivers are eligible to earn this referral bonus. You could earn up to $1,000 per referral ($1,000 is a nice bonus just for spreading the word about Smith Transport.) There is not a limit to how many referrals you can make, so feel free to refer, refer, refer!
Do you know a qualified truck driver and wondering what to tell them? Just ask the potential new driver to please contact Smith Transport's Recruiting Department at 866.265.3706 and give us your name.
Kick off 2015 by simply chatting it up with new driver prospects about Smith Transport, and be on your way to earning extra cash. (Tip: Always find yourself prepared to recruit!) For more information, visit smithdrivers.com. Don't forget to like us on Facebook!