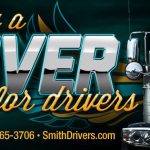 October 7, 2013 9:00 am
7 Comments
Smith Transport is always looking for new drivers, and we want to reward our current drivers for referring new drivers to Smith Transport! The Smith Transport Driver Referral Program allows associates to refer qualified candidates for potential employment with Smith Transport while earning a referral bonus(es).
Check it out… when a current Smith Transport driver refers a new driver, he or she will receive cash (and a lot of it!) How great is that? If you're a Smith Transport driver, the easiest money you can make is through our Driver Referral Program. So why should you refer?
1st payment of $150.00 is paid when the referred driver delivers his first load
2nd payment of $350.00 is paid when the referred driver has been employed for 30 days at Smith Transport
3rd payment of $500.00 is paid when the referred driver has been employed for 100 days at Smith Transport
In order for the current Smith Transport driver to be paid, the following criteria must be met:
1.  The new candidate must give the referring driver's name prior to attending orientation
2.  Both drivers must be employed at the time the bonus is paid
All current drivers are eligible to earn a referral bonus. You could earn up to $1,500.00 per referral ($1,500 is a nice bonus just for spreading the word about Smith Transport.) There is not a limit to how many referrals you can make, so feel free to refer, refer, refer!
Wondering what to tell the potential new driver? Just ask them to please contact Smith Transport's Recruiting Department and tell us your name so you can receive the referral bonus.
There are more perks! We supply referral cards to hand out. Drivers talk to drivers everywhere, so start chatting, pass out a card and see if you can refer a new driver for extra cash. Tip: Always find yourself prepared to recruit!
Refer newbies and make cash quickly and easily with Smith Transport's Driver Referral Program! Know a qualified driver? Get them in touch with a Smith Transport recruiter at 866.451.2867. For more information, visit our website and like us on Facebook.
7 Responses